Fire Hose Reel Testing Australia
Fire hose reels are used to supplement fire extinguishers in the workplace. According to the Building Code of Australia, fire hose reels need to be available in fire compartments with a floor area greater than 500m2. This is essential for occupants to defend themselves initially from a fire. At Jim's Fire Safety, we provide essential fire hose reel testing to businesses that want to maximise fire protection for all their employees. This means that any obligatory hose reels you have installed in your space will be verified for functionality and accessibility.
Fire hose reels are connected to a water supply and are designed for use against wood or paper fuelled fires. They must only be used when an area is evacuated, and never used on fires involving electricity, cooking fats, or petrol/oil. Reels should only be utilised as an initial measure – if a fire is growing out of control you need to contact emergency services.
The Jim's Fire Safety team can inspect and test your fire hose reel to make sure you are fully compliant with Australian safe work standards. We are thoroughly trained and highly passionate about fire safety. Allow our safety technicians to ensure your building is safe. Employ a team of professionals to fire proof your building and make a firm investment in safety.
How often do I need my fire hose reel tested?
Our safety technicians can inspect and test your equipment as often as you like. The specific frequency of each test may vary based on the nature of your business. We have provided a list of the tests we conduct regularly for clients with fire hose reels however we do encourage you to get in touch to verify your unique requirements.
According to the AS1851, specific fire hose reel testing needs to be performed at the following intervals:
Every 6 months
Your technician will check for the following:
Accessibility
Signage
Operating Instructions
Damage
Testing parts: Nozzle interlock, Swing arm, Unwind
Flow
Leakage
Record Label
Every year
Your technician will check the following:
Anchor Points
Hose Guide & Fittings
Damage in Hose or Bearings
Fire Hazards or Obstructions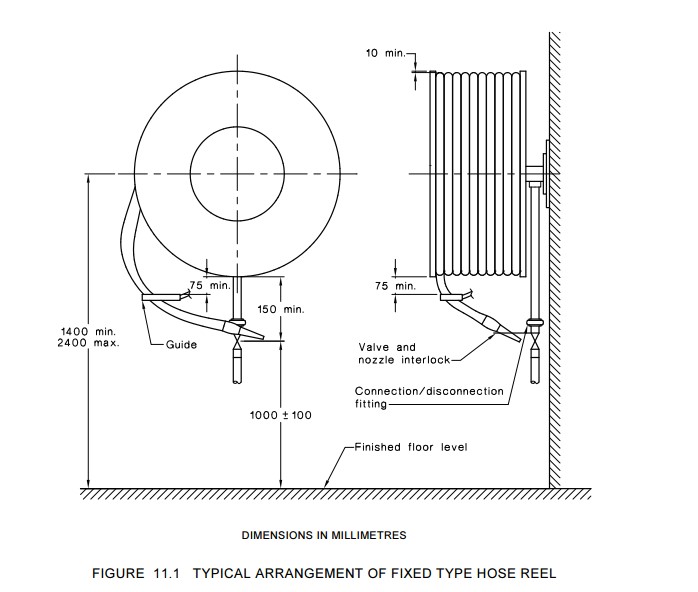 Source: AS2441:2005 Australian Standard Installation of Fire Hose Reels.
Jim's fire hose reel testing services are accompanied by a detailed status report for each item we test. Each client will receive a document with the test results as well as a suggested date for your next test. Worried that you might miss a test? Ask our team to notify you when your next test is due.
Proving your safety efforts is simple with our reports. If an unfortunate accident does occur in your building, you have clear documentation to support your compliance claims. Your fire hose reel tests will be kept on file and are accessible whenever you may require them.

Why should I choose Jim's Fire Safety for fire hose reel testing?
The technicians at Jim's Fire Safety are the most experienced and capable staff in the fire protection business. Their comprehensive knowledge of fire safety testing coupled with their strict adherence to Australian safety standards means that your business will be protected from fire hazards as well as any legal obligations.
Our thorough database of testing records will help us manage your fire hose reels, and make sure they are tested on time. With Jim's Fire Safety, you can avoid unnecessary risk and certify your compliance to local safety standards. We offer a wide range of services. When you book a Jim's fire Safety technician, you have access to a comprehensive safety inspection and testing service. Hazard proof your building with one dedicated company that fulfils all of your safety testing needs.
We are fully mobile and available across Australia. Contact us today to get in touch with your local technician. Our staff members are dedicated to spreading fire safety services throughout their communities. You can support an Australian business that strives for fire prevention and protection across the nation.
Jim's fire hose reel testing services are your first choice for fire prevention and protection in Australia. Ask us for a free quote today for any number of our services. We'd love to chat to you about your unique building and how you can remain compliant.
Expand
There are a range of important tools in the fight against fire. These tools must be regularly tested in order to ensure that they are effective and ready to be used when necessary to reduce the risk of fire and offer a chance to quickly fight back.
Australia has developed a range of legislation in a bid to ensure that businesses take the proper steps to protect themselves against fire. It is incredibly important to be compliant with these rules and regulations, and only qualified testers can guarantee this is the case.
You want to ensure that you are working with a tester who specialises in fire protection services the workplace and can be trusted to deliver quality results. In short, you want to work with Jim's Fire Safety and here is why.
Fire Hose Reel Testing You Can Trust
Fire hose reels are an especially important weapon in your arsenal in the fight against fire. The Building Code of Australia dictates that these reels must be made available in fire compartments which have a floor area greater than 500m2. These reels must be regularly tested and verified that they can deliver in terms of both functionality and accessibility.
As defined in the AS1851, the reels must be tested in two regular intervals: once every six months and once every year. The technician must check the reel every six months in terms of signage, accessibility, clarity of operating instructions, damage, testing parts, flow, leakage and the record label.
Each year, the reels must to be tested in terms of their anchor points, hose guide and fittings, any damage to the hose or bearings and any surrounding fire hazards or obstructions.
Here's why we are perfectly suited to deliver this maintenance.
Over 150 Years of Combined Experience
Our team of expert testers have a combined experience of over 150 years, meaning that they have the experience and abilities to take on any challenge. In this time they have worked with a range of businesses in order to prepare for fires and fulfil legal commitments effectively, quickly and for the best possible price.
Given that we have so much experience we are capable of delivering friendly and efficient service that truly gets the best results for everyone involved. You'll see from our testimonials and reviews that we have worked with a huge range of businesses and that we can service your needs.
Expert and Qualified Testers
Our team is made up exclusively of absolute experts. We are focused on offering the best service possible and keeping you and your property safe from fire. We are unified in this pursuit, and we are the very best in the business.
You'll find that not only are we absolutely professional, we are also focused on customer care and deliver our service with a smile and keep you informed throughout the entire testing process.
Get Your Free Quote Today
Working with us is a breeze. You can visit our website today to generate your free quote and then pursue your booking from there. We can't wait to work with you and protect you against one of nature's most ferocious elements.
Jim's Fire Safety specialises in fire safety protection for homes & workplaces around Australia. We offer a variety of services such as smoke alarm testing and fire extinguisher testing to ensure you are safe if a fire does occur. Browse our website further or contact us to learn more.
Less